During her first week at Treehouse, our Director of Strategic Partnerships & Development, Julie Kumble, met Emily Lewis.  Emily is a vivacious woman who seems to be everywhere:  reading to a child, working on peace and justice, managing a local symphony. "Who IS this woman?," Julie wondered.  They sat down to chat. Read More
Julie Kumble:  Whenever I see you, you seem really happy! What gives you joy here at Treehouse?
Emily Lewis: I have experienced joy many times living at Treehouse. Coming home to my apartment at Treehouse, to my little neighborhood where I know almost everyone, I feel embraced by this as well as the beauty of the environment and being held by Mt. Tom! And there are so many joyful moment witnessing the growth, changes, and delightful achievements of our children. Being part of that process gives me joy.
Children need allies and being an ally is my favorite way to connect with the children. This could be participating in our Drop-In program where I play with the kids and give recognition and encouragement. I enjoy all ages. Lately however, I especially delighted with our youngest children - watching them make friends, navigating personalities and needs, and gently helping this process when needed. My connection to families changes as the years go by.  In the first few years I babysat for two families. I found these times challenging and fun, and learned a lot. During those same years as well and currently, I've helped with transportation, or being a good neighbor to the families through an interaction or request. 
JK:  What about connecting with other residents?  How has that influenced you?
EL:  Living with other older people has given me opportunity to accept my own aging as a vital senior/elder. I enjoy learning what other's life experiences have been and continue to be; I savor the times I help neighbors through meals, hair trims, shopping, transportation, etc., partly because it's good to help but mainly because I really like these people.
JK:  You've been here for six years.  How has it changed for you since your first year?
EL:  When I first came, I didn't really know how I could step in and just help.  It was a little challenging at first but the staff were very receptive to making it better.  We started a volunteer support group for residents like me and other volunteers to talk about our experiences with the children, youth and families.  We share what has worked really well and what are challenges.  Social work staff and a therapist attend that group, and it has been a great way to be more engaged.
JK:  Tell me a little bit about yourself!  How did you come to live at Treehouse?   What has been your professional background?
EL:  I had visited TH before it was completed because a friend of mine was volunteering to help find tenants and she wanted me to see it, to know about it, because it was (and is) such a great idea, and now a reality! Several years passed and came a time when I decided that it was time for me to find a stronger community environment, one where I might stay comfortably for what could be very old age. I looked up Treehouse, made an appointment - and visited. I could not believe the change and how beautiful the Treehouse campus looked. It is more beautiful today with the wonderful variety of trees and their growth!  About a year and half after submitted my application, and 24 years living an active life in Amherst, I moved into Treehouse!
JK:  Good for you!  I know that you're involved in a LOT of things.  What's your background and what did you do during some of those 24 years in Amherst? How does Treehouse fit into your life path?
EL:  I have a varied work history: fifth grade teacher, houseparent at a children's center whose residents were placed by courts because of difficult home lives, executive assistance and outreach person at a school for children with Down syndrome, health educator and PR person for a greater Springfield medical facility to name some primary jobs. For the last 16 years I have been business manager for the Holyoke Civic Symphony. Also, I am currently board chair of The Resistance Center for Peace and Justice (TRC is a continuation of the local  office of American Friends Service Committee.)
Treehouse, the Symphony, and TRC all give me a sense of true meaning and for me are interconnected in that they nurture individuals and community. This view of life - giving and getting as a result, social justice and the arts have been part of my whole adult life, and now, more so than ever!
A bonus is that my daughter Maggie and her husband Scot live only a few miles from TH, and though they aren't the reason I moved to Easthampton - Treehouse is the reason - it's serendipitous that they do!
EL:  It's interesting because I've transformed since living here.  It's connected to many things but a lot of it is because of the staff.  I have great admiration for them.
JK:  How so?  You've worked in a lot of therapeutic and educational settings, so what do you mean exactly?
EL:  Well, I don't believe in finding yourself, I believe in creating yourself. Those qualities of the staff and their approach here has helped me be the way I want to be.  The staff has played a roll in my own transformation… I think they practice extremely deep listening, they reflect compassion, they're extraordinarily flexible, they're creative…just look at what Jen Mattias does with the TreeCat Café!
JK:  What would you tell prospective residents about living at Treehouse and potential volunteers?
EL:  I would tell prospective tenants that living at Treehouse is a combined opportunity: to live in a lovely community and feel at home while participating in community events and do not only "good" works but to grow individually with open hearts.
To volunteers I'd say that they get to converse and connect with other volunteers to learn about their shared and different experiences. One way to do this - a way that I thoroughly enjoy - is by attending the Volunteer Support Group. Some volunteers find a special niche right away; other struggle. I would say that the way to benefit most as a volunteer is to share experiences.
See you in the neighborhood!
JK:  Now I understand why you always seem so happy!  You're living where your view of life—giving and getting as a result—happens at home in the Treehouse Community.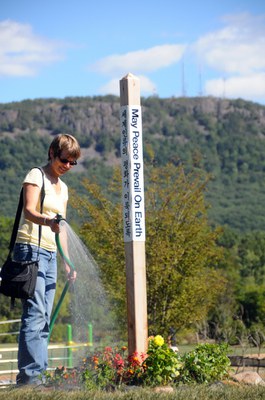 Community members of Treehouse are richly diverse and bring an extraordinary range of skills, talents, knowledge and abilities to our community. They are living the mission every day,  weaving connections across differences of age, race, culture and lifestyle.  They are proof of both the richness and the power of community.  Part of that power is the fact that we learn from one another, and that makes us grow individually and as a community.
"We have also invested in building the trust that is necessary for us to partner with each other and share our perspectives.  At Treehouse every day, I see leadership demonstrated by women who have stepped up to the plate, and I see generosity. These stories reflect some of the magic and power that is the Treehouse model." ~ Kerry Homstead, Treehouse Community Facilitator
Our pioneering social project called the Treehouse community is a 60-home village built from scratch nearly a decade ago in a broad former meadow near Mount Tom. The Treehouse Community was founded to support families that take in foster children in the hopes of stopping the bounce through the system. Now approaching its tenth year, the numbers reflect a success story and defy statistics on foster children.
It's an uncommon place, where once-traumatized children are raised in a quiet neighborhood where the special needs of foster and adoptive families are supported and understood. It's also a place where dozens of elderly residents have moved specifically to help these families in simple but critical ways — by walking children to school, by baby-sitting to give stressed parents a break — and to savor the simple pleasures of joining a community where their help and life experience are appreciated.
---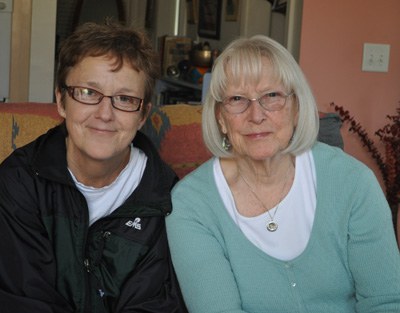 Mary Steele
When it was time for me to retire and I was looking for a new challenge, I remembered hearing Judy Cockerton speak at a church service about a vision she had for creating an intergenerational community. I had been moved by the concept of older folks interacting with foster/adoptive families and was excited to learn that Treehouse had indeed become a reality. Perhaps this was a place I could live and continue to use skills acquired after years of being a parent to three children, raising a troubled grandchild and working as a teacher, counselor and administrator of several programs for children and adults. Read More.
---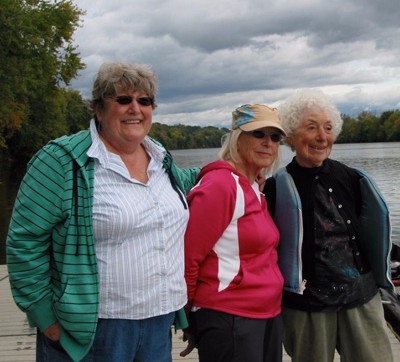 Rosa Young
It was nearly six years ago, when my dog Chloe and I jumped into an RV overflowing with our belongings and drove 1,000 miles to Treehouse. The description of the Treehouse Community in Easthampton on National Public Radio, a conversation with Kerry, the Treehouse website and written materials lured me to take a leap of faith and move to Massachusetts from Michigan. Read More.
---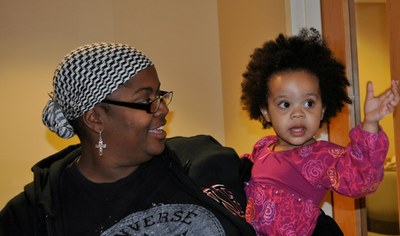 Pam Lumpkin
Pam's family consists of her two birth children: her oldest daughter who is 20 years old and her son,18 years old, and her two children who came to her from the public foster care system. Her oldest foster daughter has Down syndrome and multiple needs that require constant attention. Some senior neighbors have been a wonderful support to this child. Her youngest daughter, who is birth sister to her other foster daughter, came to Pam's home a couple of years later. The daily informal interactions with supportive neighbors and the activities offered in the community are an investment in their growth and stability as a family. Read More.
---
---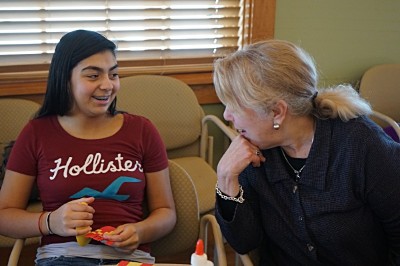 Emily Lewis
---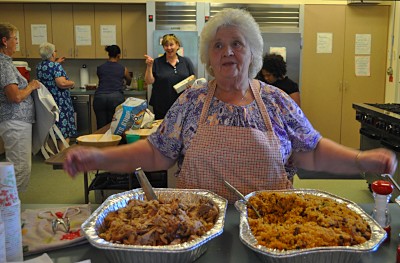 Tea for Thousands!
The Treehouse Tea is a monthly staple in the Treehouse Community Room.  Since 2006 we've hosted 147 tea gatherings where 35-60 people (that's 5,000 to 8,000 people!) of all ages come together in community to laugh, celebrate milestones and celebrate the magic that is Treehouse. 
One of our newest Community members, Marcia Kemp, who is a baker at Whole Foods, made a delicious cake for the August tea, enjoyed in conjunction with the art class. Marcia whipped together a healthy confection of zucchini and cocoa, and somehow managed to keep the cream cheese frosting together on one of those sweltering August afternoons!  It was art and science, elders and kids at the Treehouse Tea last month!

The Community Room is also the site of many other gatherings and celebrations, including birthday, graduation, and adoption parties. People of all ages come together sharing food, laughter and connection.